Scope of Inquiry / Counselling Management in the EduBorg?
Scope of EduBorg's Inquiry & Followups"
Capture Inquiries | Track Inquiries | Update Followups | Followup Reminder SMS | Prospects Greeting SMS & email notification | Students Welcome Mail | Daily Inquiries summary mail to designated person | Analytical Reports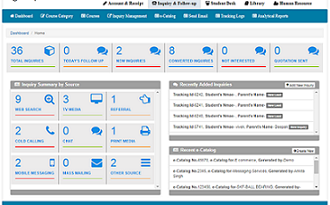 Capture Inquiries: Eduborg captures inquiries & allow sales person to take next immediate action through out the life cycle of inquiries.
EduBorg captures inquiries & keep tracking the same for fast conversion.
Ways to capture Inquiries to EduBorg-
Manually addition by Sales person / counsellor
Capture website visitor
Capture from online campaign
Capture from Missed call service
Track Inquiries:
EduBorg covers entire life cycle of a reported inquiry & keep the same on close tracking for supervisors, Managers & CXOs. Tracking logs are available for every inquiry updated by Sales person or Counsellor.
3-level Sales team hierarchy enables an institutes to have dedicated login dashboard from tele-caller / counsellers, Mid-level Managers, Branch Managers, Senior Managers & CXOs.
CXOs can monitor & supervise their team activities in real time & provide their valuable input to team members or management in order to ensure speedy growth of an institutions.
Update Followups:
EduBorg facilitates a dedicated tracking log window to update brief information all about followups of any inquiry to show their effort towards conversion & supervision of their performance either to get appreciation or get input for improvement.
Followup Reminder SMS:
Reminder SMS plays critical role to remind scheduled followups to sales person on set followup date in the morning with inquiry details as shown below-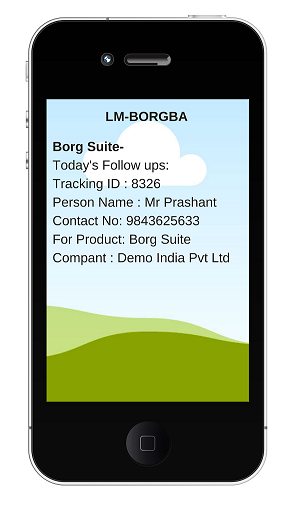 Prospects Greeting SMS & Email Notification
Once Inquiry is reported & captured by EduBorg, An email & mobile SMS is sent to registered / captured email & mobile number of inquiry to have positive impression of your managed business & integrated auto communication.
Students Welcome Mail
A Preset welcome mail is sent to captured email id once iquiry gets converted in to students. It consists of Brief introduction of your institute along with features & USP.
Daily Inquiries Summary Mail to Designated Person
EduBorg Sends daily email alert to a designated registered email id all about inquiries details having their current status.
Analytical Reports
These are auto generated reports to have real time deep insight of inquiries, sales team & offcourse Institutes as a whole.
EduBorg contains 21+ Inquiries & followups Reports.