How to manage, view, edit, update, delete fee receipt with EduBorg?
EduBorg simplifies Receipt management in case of requirement. Fee Receipt Management allows you to edit, print, email, delete etc. fee information. Follow following steps to manage Fee receipt-
Login to EduBorg --------- > Go to "Accounts & Receipt" ---------- > click on "Income"---------- > Click on "View Income Receipt" --------- > All Receipts would be listed------ > Go to "Invoice to be modified" -------- > Click on "Edit" to update the details -------- > update the details followed by update.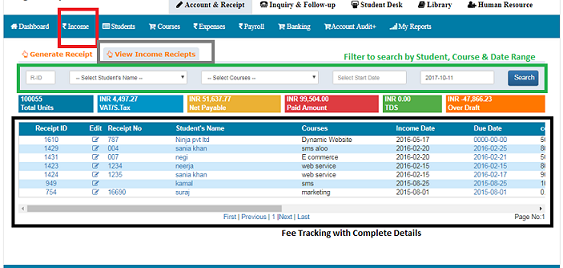 Print / email / Save pdf Invoice: Go to "View Income receipt"-------- > Go to Fee Number to be managed --------- > Click on Invoice number to open Invoice --------- > 3 options ) Mail/Save/Print)are there --------- > Click on any of them
Receipt ID: This a Recepit number generated automatically & governed by BorgSuite. To check the payment details deposited to BorgSuite, Click on "Receipt Number" & check the same.
Delete: Only Master admin can delete the same. Uesrs do not have previlige to delete any information in the entire software.