How to deposit fee or how to generate Fee Receipt ?
EduBorg facilitates Institutes to reecieves fee of students followed by updating & taking print of Fee Receipt. It also allows to manage due fee or balance fee if any student is not paying full fee.
EduBorg sends email alert to registered email id regarding gentle email reminder to pay due fee amount.
Generate Fee Receipt:
Login to EduBorg --------- > Go to "Accounts & Reecipt" ---------- > click on "Income"---------- > Click on "Generate Invoice" --------- > Fill Required details ----------- > Submit the form
If Fee is being paid by cheque, Select cheque option & update cheque details-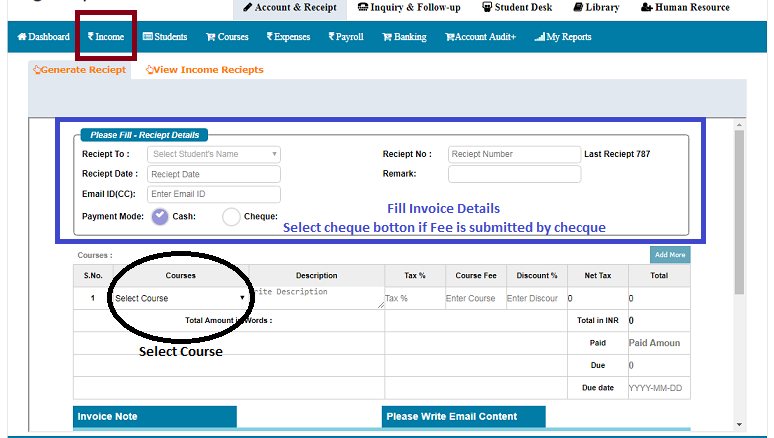 Invoice Note :
Invoice note consists of Fee Receip, Terms & Conditions which are mentioned at the botom of the receipt. Example - Fee once paid, Not be refunded
Email Content:
Email content is required if Fee receipt is being mailed to either student or parent after deposting fee & sent to registered email id. If Fee Receipt is not being mailed directly from EduBorg, It is required to upate if needed.