How to add new inquiry with EduBorg? or How Inquiry Management works in EduBorg?
Add New Inquiry with EduBorg-
Here, Learn how to add new inquiry in the EduBorg. It is well explained in our other article in the scope of "Inquiry & Followups" & Capturing of inquiries for institutions.
In this Article, Follow following steps to add inquiry manually in the EduBorg.
Login to Eduborg -------- > Go to "Inquiry & Followup --------- > Click on "Inquiry Management" -------- > Click on "Add New Inquiry" --------- > Fill the Inquiry details------- > Submit the Form ---------- > Inquiry added successfully.
Greeting Alert: There are two options (Yes / No). If yes, A greeting SMS & Email shall be sent to inquiry's mobile no & Email id. If No, Greeting SMS & Email shall not be sent.
Make Sure, Contact no & Reporting Date can not be edited or altered once Inquiry form is submitted so be careful & keep correct details.
Next Call on Date: This refers to Next follow up date based on conversation with prospect. This is to be updated & keep next scheduled after each conversation with prospect.
Inquiry Source: This refers to the source where prospect has come to know about Institutions or course. Example - Newspaper Ads, TV Ads, Online search etc.
Inquiry Status: Status belonging to life cycle of Inquiry from reporting to conversion.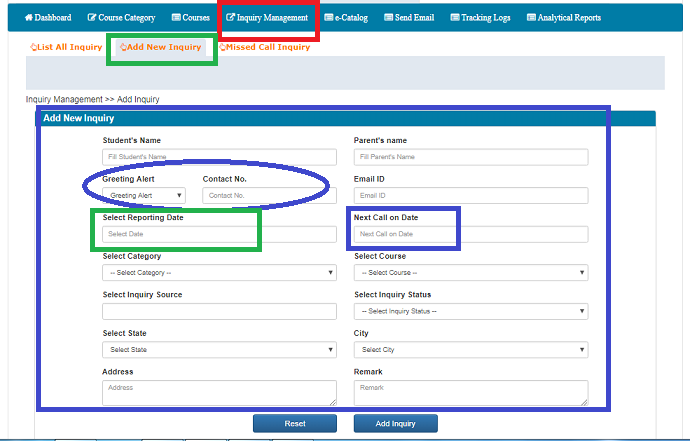 List / View Inquiries -
Added Inquiry or captured inquiries are listed in this section to view / monitor / supervise / follow up / track / update till conversion or reaching final stage or inquiry life cycle.
Follow following path to go to "List / View Inquiries"-
Login to Eduborg -------- > Go to "Inquiry & Followup --------- > Click on "Inquiry Management" -------- > Click on "List / View all Inquiries" --------- > Manage / view inquiries.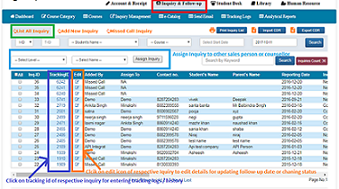 Tracking ID: Click on tracking id to against an inquiry to update tracking log about the lead. Tracking logs must be updated after every conversation of inquiry.
Edit Inquiry: Go to Edit to update inquiry info or inquiry status once new info received or collected.