How can I update follow-ups of every lead / Inquiry?
Follow-ups capturing is paramount important for any enterprise for detailed analysis of prospect behaviour as well as team's performance evaluation.
It has been seen in many cases, Sales executives forget to follow leads in time which results either company lost potential lead or incur loss of brand image.
Borg integrates tool to remind every sales executive to follow up in time by sending SMS notification in the morning with lead contact details on the date of set follow up date in the lead form which is given below-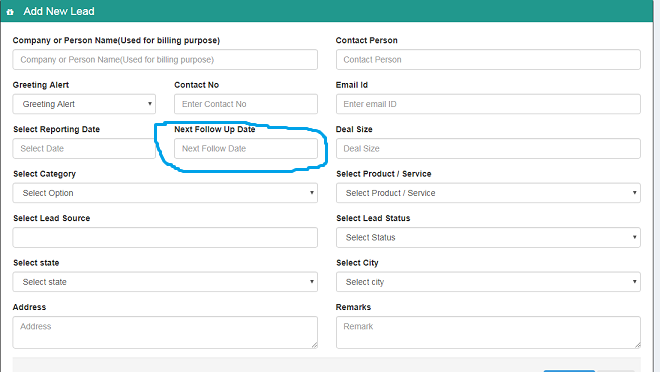 This follow up date can be updated to the next follow up date as discussed with prospects or based on understanding of sales team.
Next follow up date can be updated as below-
Login to the Borg ------- > Go to "Sales & Marketing Module" -------- > Go to "Manage All Lead" in the side bar menu ------- > Go to "Action" column in the last of the table -------- > Click on "Edit" Icon -------- > Update "Next Follow up date" ------- > Click "Update"
Close Follow ups leads to convert high potential Lead.